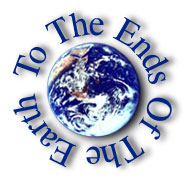 About Us
Isaiah prophesied that in the last days the Word of the Lord will go forth from Zion ...and it is! Incredible discoveries are being made in Israel that make it possible to understand the Bible more accurately than for almost two thousand years! And this new information is going out to the nations: To The Ends Of The Earth Ministries is making instruction and media available from Jerusalem to Asia to train pastors, missionaries, and ordinary believers.
Our Ministry
The vision for To The Ends Of The Earth Min­is­tries was born in Israel. Here founder Jeff Harrison was working as a study tour teacher, introducing Christians from around the world to the land of the Bible. As he taught on the bus and from site to site, Jeff became burdened for the pastors in the Philippines that couldn't afford to come to Israel. As a result, in 1994, God called him and his family to the Philippines to train pastors and other Christian leaders with instruction and multimedia resources from Israel.
At first, Jeff taught in traditional Bible colleges in addition to pastoring a local church (God's Promise Christian Center). But it soon became clear that most Filipino pastors and pastors-in-training were too busy or too poor to attend a traditional program of study. Some other way was needed to reach them with this exciting material from Israel.
So in 1996, Jeff condensed one of his classes and began to present it as a week-long seminar, Jesus of Nazareth, to groups of pastors around the Philippines. This was the beginning of the Landmarks of Faith seminar ministry. This made it possible to reach many times more students than ever before. Over time, additional seminars were added. They now also include The Jewish Roots of Christianity, The Revelation of Jesus Christ to John, Great Discoveries of the Bible, and Evidence of the Creation. The next year, Jeff and his family began to share these same seminars during their visits back home to the United States as well as in Taiwan and Canada.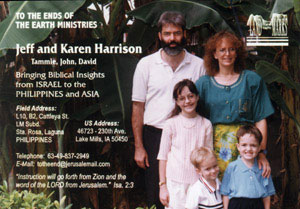 During their eleven years in the Phi­lip­pines, they parti­cipated in many other kinds of ministry, too. See these videos of:
A missions trip to the Aeta people in 2001.
An overview video of our ministry in 2004.
Karen's outreach to local children.
In 2005, after the big tsunami struck in Asia, donations to the To The Ends Of The Earth Ministries dropped off causing Jeff and his family to return to the U.S. During this time, they led a weekly Bible study in Medford, Oregon, called Deeper Walk Fellowship and a house church that meet on Sundays.
In 2007, God opened the door for them to return to Asia. For many years, Jeff taught at the Glad Tidings Bible College in Taichung until the college unfortunately closed. Currently, they are pastoring New Church, an English-language fellowship in Taichung, which is working together with the Glad Tidings Church in Taichung. During the week Jeff teaches English at Chaoyang University in Wufeng. Karen teaches at the Jackson Five English School (a Christian school). On alternate weeks, they lead an Israel-focused Bible study in Taichung (Keilat Adonai), which is broadcast on the internet and which you can watch on our YouTube channel. They also have other ministry opportunities from time to time in Taiwan and in the Philippines.
For the last few years, Jeff has been working to make his seminar materials available in print, audio, video, and on-line. Many of these resources are now available free on this website. A book version of his Revelation teaching, The Revelation of Jesus Christ to John, is also available in print and Kindle versions. His Jewish roots teaching, The Jewish Roots of Christianity, is now also available in print and on Kindle.
Our Background
Jeff and his wife Karen met in Jerusalem. Jeff came to Israel to study at the Institute of Holy Land Studies in Jerusalem (now known as the Jerusalem University College). Here he completed two years of graduate level study with the Israeli archeologists Ronnie Reich and Gabi Barkay, together with other well-known scholars, both Jewish and Christian. He also worked with Dr. Bob Lindsey on his Comparative Greek Concordance of the Synoptic Gospels (volumes 2 and 3; order it on our Bookstore page).
While in Israel, Jeff taught for two years as a study-tour teacher at Dr. Jim Fleming's Biblical Resources Study Center. This introduced him to many enthusiastic Christians from around the world, some of whom later went on to become core supporters and team members of our ministry in Asia. Our Tours to Israel continue today on an irregular basis.
Jeff's educational background includes an M.Div. and an M.A. in Biblical Literature from Oral Roberts University in Tulsa. For more details on Jeff's professional credentials, see his Resume page.
While Karen was a believing Christian from an early age, Jeff came to faith during his college years. While outwardly successful as an honors student at an Ivy League school, a lifestyle of drugs and immorality robbed all the meaning from his life. As a result of the testimony of Christian students on campus and participation in a theatrical production of Godspell, God began to reach into his heart with the saving message of salvation. That spring, in an evening church service, Jeff gave his heart to Christ and received a dramatic deliverance from drugs and other bondage. He has now been serving the Lord for more than forty years.
To The Ends Of The Earth Ministries is a faith mission supported by the prayers and free will offerings of Christians that share our vision. Join us in taking the message of the Jewish Roots of Christianity to the Ends of the Earth!