Landmarks of Faith seminars have been presented to thousands of students and in scores of churches in the U.S., Canada, Taiwan, the Philippines, and recently in Singapore. The Landmarks series draws on Pastor Jeff Harrison's experience as a study-tour teacher in Israel and his study with some of the top Israeli archeologists and scholars in Jerusalem (click here to see a summary of his teaching and educational experience).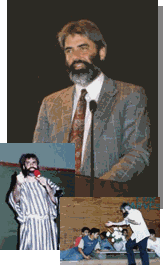 Each seminar is made up of several sessions. Seminar I: Jesus of Nazareth has 5 sessions; Seminar II: The Jewish Roots of Christianity has 4 sessions; Seminar III: The Revelation of Jesus Christ to John has 5 sessions; Seminar IV: Great Discoveries of the Bible has 5 sessions; and our new Seminar V: Evidence of the Creation has 4 sessions. Each session is 1 1/2 to 2 hours in length. This includes a powerpoint presentation. One session may be held each evening, or in any other convenient arrangement. No more than 2 sessions may be scheduled on a single day.

Handout booklets, complete with maps and diagrams, are available for each of the seminars (except Seminar V). If your sponsoring organization would like to make these available to those attending the seminar, we will provide an original copy. The sponsor can then make copies and charge participants to cover copying costs. (The booklet for Seminar I is 40 pages. The booklet for Seminar II is 25 pages. The booklet for Seminar III is 47 pages. The booklet for Seminar IV is 31 pages. There is no booklet for Seminar V.)
To help you promote the seminar, Promotional Materials are available for you to download and use, including brochures, mini-posters, seminar contents, press releases, and audiovisual resources. To download free promotional materials, click here.

Seminars are made available on a free-will offering basis with accommodations for Jeff (or for Jeff and his wife when she is able to travel along) during the week of the seminar.

To schedule a seminar, please send the following information:


Name of Pastor/Contact
Name of Church/Organization
Address
Phone
Seminar Requested
Preferred Dates
2nd Choice Dates
Send by E-mail to: Jeff@totheends.com

Or in the U.S. write to:
Jeff and Karen Harrison
To The Ends Of The Earth Ministries
c/o Dan Hartmann
800 S. Horizon Lane
Sioux Falls, SD 57106
U.S.A.